PAGE NAVIGATION
Introduction
The #Resist Trump movement refers to the protests and campaigns— both on and offline— against the U.S. President Donald Trump and his administration. The foundation of this movement is based on the idea that Trump is "unfit to govern" as the leader of the free world.[1] The Anti-Trump/ 'Resist' movement's mission is three-fold. First, the movement opposes the current U.S. President and advocates resistance to overcome and overturn FWX the president's bigoted policies. Second, the movement calls for the president's impeachment from office.[2] And third, the movement calls for unprecedented, progressive social activism and action.[3] Participants in the movement range from Socialists and die-hard progressives to center right Republicans who struggle to align themselves with the Trump administration's foreign, domestic, and social policies. Many international individuals, who are completely removed from U.S. politics, also align themselves with the Anti-Trump movement.
It is important to discern the Anti-Trump/ 'Resist' movement from the Never Trump Movement. The Never Trump Movement was led by prominent conservatives, such as John Kasich and Erik Erickson, attempting to prevent Donald Trump from gaining the Republican presidential nomination in early 2016.[4] 
Although the protests related to this movement have mostly occurred in the United States, there have been various manifestations of this movement in liberal cities around the world. For example, on inauguration day many Filipino citizens burned the American flag to demonstrate their disfavor of the newly elected U.S. President.[5] Individuals around the world have been adamant in protesting Trump's policies because many of the Trump administration's policies, such as dropping out of the Trans-Pacific Partnership, impacts the lives of individuals and economies around the world.
The Anti-Trump movement addresses various social issues including: gay rights, religious rights, women's rights, and minority rights, especially Latino, Muslim, and Black rights. Individuals are enticed to join or associate themselves with the Anti-Trump movement based on Trump's divisive policies. Often, the Trump administration tweets about a policy change, or news outlets unearth Trump's old tweets relating to the current policy, which together form mini-movement protests. A few examples of these mini-movements within the larger Anti-Trump movement include, A Day Without Immigrants, People's Climate March, and the Women's March, to name a few.
Donald Trump's tweets that have been used alongside his policy to ignite activism among movement participants
This article argues that the Anti-Trump/Resist movement would have still existed both with and without the presentence of social media. However, the use of social media was the driving force that caused majority of the movement's growth.
CONTEXT
Given that there were hundreds of social media and physical protest inflection points, we needed a method to find the most notable times. To do so, we used Google Trends analysis to pinpoint the dates in which "Donald Trump" had peak searches, and then we cross referenced them with real life events. To get a more accurate portrayal, we looked at years individually and excluded large events, such as his election win, since they would skew the interest percentages. Most significant events were written about in more detail below. We also conducted an advanced Twitter search around these days to find key hashtags and tweets.
2016 Google Trends Searches
Google trends data for "Donald Trump" 1/3/16-10/3/16 [6]
2017 Google Trends Searches
Google Trends for Donald Trump All-Time [7]
Timeline
Key Actors 
Between the physical and digital spheres, this movement has engaged millions of people. From the moment Trump was elected president, the level of public outcry has been tremendous. This section will touch on several key actors within the Anti-Trump movement, including specific demographics, organizations, and celebrities.
Throughout his infamous campaign, Trump made plenty of enemies by isolating and attacking various communities of people. This has not only led to many physical protests, but has also heightened the level of Anti-Trump activity on social media.
Demographics
The demographics that have led the social media movement against Trump are very similar to those that have led in-person rallies and protests. This list includes, but is not limited to, women, Muslims, African Americans, and immigrants. A key issue to explore is the role of the American youth. According to various exit polls, millennials voted overwhelmingly in favor of Hillary Clinton.[40] This is significant when analyzing this topic through a social media lense, since this is the very same demographic that is most active on social media platforms.[41] 
In addition, many women have consistently expressed Anti-Trump sentiments across social media. From his attack on  Rosie O'Donnell at the first debate (in which he referred to her as a "pig") to the recorded conversation with Billy Bush (in which he described groping models), he has isolated many young women from his campaign. This contributed to the impetus of the famous Women's March on January 21, 2017. Not only was this a successful in-person protest, but it also further promoted the core messages that originally inspired the event.[42]
Tweet by Lena Dunham Speaking on Women's March
Instagram Post by Alicia Keys Performing at Women's March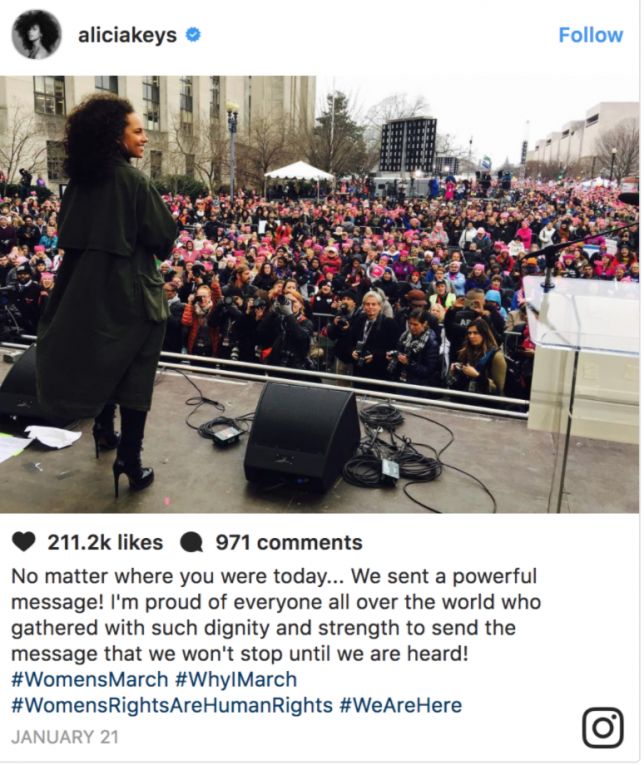 Organizations
Not only has the Trump presidency invigorated many long-established organizations, but it has also led to the creation of several brand-new initiatives. For instance, groups like Operation 45 and The Democratic Coalition have been created with the specific purpose of fighting Trump's new policy initiatives, defending immigrant rights and swinging key districts in the upcoming 2018 elections.[43] They span an extremely broad range of areas, with the common theme being of Anti-Trump sentiment.
Operation 45
Operation 45 was created with the intention of ensuring that the Trump administration was being held accountable for its actions, while also hoping to preserve a certain level of transparency in the government.[44] For instance, one post from earlier this month on the organization's Facebook page highlighted the White House's recent visitor logs.[45] In this case, the goal is to make sure that the public knows exactly know the President is meeting with and where he may be hoping to make political deals in the future. According to their website, most of the donations made to this organization go toward their legal costs associated with suing the federal government. Many of these lawsuits have to do with forcing the government to be reasonably transparent.[46]
The Democratic Coalition
The mission of the Democratic Coalition takes a much more direct approach. While this site also shares potentially damning information about Trump and his administration, it takes aim at winning elections and limiting the power of the Republican Party.[47] For example, the organization was active in fighting against Roy Moore's campaign in Alabama. They created advertisements and contacted local citizens to help Doug Jones win the special election for the state's open Senate seat.[48] The Democratic Coalition has garnered a large base, with over 290,000 followers on Facebook and roughly 120,000 on Twitter.[49] Their Twitter page features many retweets from both Democratic celebrities and laypeople, which likely creates a more active follower base.[50]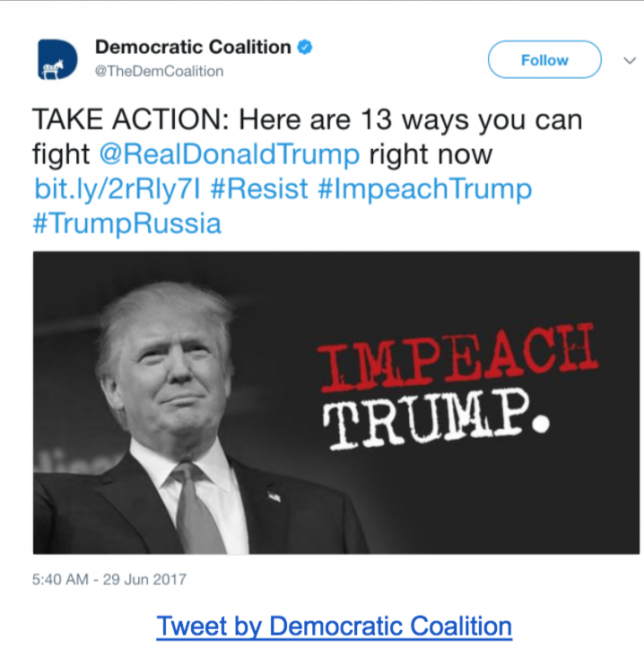 In addition to these aforementioned organizations, long-established ones have also taken to social media to push their progressive agendas. For example, the American Civil Liberties Union (ACLU) has been very active across various platforms, like Twitter and Facebook, since Trump's inauguration. In addition to this, 50 other established organizations, like the NAACP, Common Cause, and the Sierra Club, came together in early January to start the United Resistance Campaign.[51] Many other international organizations and businesses have also come out against Trump's various initiatives and policies.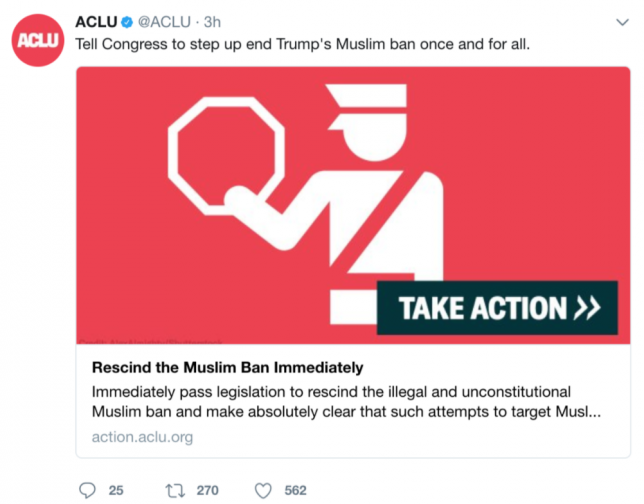 Tweet by ACLU responding to Muslim Ban
Key People/Celebrities
Since this movement has encompassed so many different voices, it is extremely difficult to provide an exhaustive breakdown of all the celebrities that have come out on social media in opposition to Donald Trump. However, there are several key people that can be referenced to demonstrate the scope of the opposition. For instance, many entertainers and musicians, like  Nicki Minaj, SIA, Judd Apatow, Rihanna, and Bruce Springsteen, have actively posted on social media to show their Anti-Trump sentiments.[52] Professional athletes have also notably been publicly protesting the president by taking a knee during the national anthem and by attacking Trump on social media. Perhaps the most prominent example of this is when Lebron James referred to Trump as a "bum" on Twitter.[53]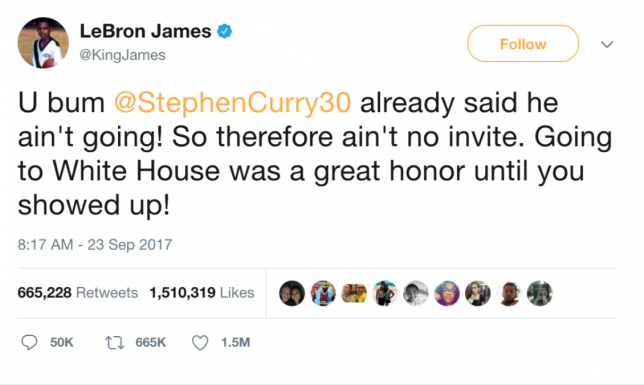 Tweet by Lebron James directed towards Donald Trump
Social Media Presence
Platforms Used
There have been various 'typical' as well as atypical platforms which have been used in the organization of Anti-Trump movements, both offline and online. Facebook, Twitter, and Instagram have all been effectively used in different ways by the movement. Facebook has been used to explain personal narratives, Twitter has been used to pithily react to Trump's remarks, and Instagram has been used to spread poignant images and pictures. Other platforms, like MeetUp.com and Action Network, have also been uniquely used during this movement.
Meetup.com is a website typically used for event planning and for connecting like-minded individuals with one another. Although in the past there has not been much political activity on the site, with the spark of the #Resist movement the site is now being used as an instrument for social action. Meetup.com leadership released a statement on their website, "Since the recent United States election, we've seen a dramatic increase in Meetup members pursuing and creating opportunities for civic engagement on our platform.[54]" Meetup.com has since collaborated with Community Organizers at a new Democracy Lab pioneered by the National Domestic Workers Alliance.
Another new organizing technology platform called Action Network was created to organize progressive protests and to translate and coordinate protests online. Action Network has been named the "technological backbone of the anti-Trump resistance."[55] Although it is not as popular as other social media platforms, as it was recently developed during the Occupy Wall Street protests, it has allowed organizers to to register and connect with other protesters and organizers. In addition, this  platform allows organizers to inform their audience about future events and follow-up actions through open channels of communication between organizers themselves and participants in other cities.
Popular Hashtags
The Anti-Trump activism on social media has been represented by various hashtags. The following are several prominent examples.
#Resist
One of the most consistent hashtags on social media that has been used in the Anti-Trump movement is #Resist.[56] #Resist was first used on Twitter, Facebook and other platforms commencing immediately after the election in November.[57] Though the exact origin of this hashtag is unknown, it quickly caught on and spread across various social media platforms.
Generally, this hashtag symbolizes solidarity against Trump. It is also used alongside other policy specific hashtags targeting marginalised groups such as minorities and women. Though its height of popularity occurred during the days following Trump's inauguration, it has resurfaced during times of political controversy and animosity. For instance, there was a notable spike in usage throughout the week of Trump's response to the White Supremacist Charlottesville rally.[58] Moreover, in the three days following the announcement of the initial Muslim ban in late January, #Resist appeared in over 2.5 million tweets. Several prominent celebrities have used the hashtag to show opposition to Trump, including Shailene Woodley, Zendaya, SIA, Rosie O'Donnell, Cher, Olivia Wilde, and Sophia Bush.[59]
In addition the #Resist movement has been adapted to many different forms as it has been associated with the #BlackLivesMatter movement.
#NotMyPresident
Internet searches for "NotMyPresident" hit an all time high in the days following the election.[60] #NotMyPresident began as a grassroots social media resistance and has since developed into the social media mainstream. After the Charlottesville Riots, Democratic Senator Brian Schatz from Hawaii tweeted that Trump is "#NotMyPresident."[61]
#StillWithHer
The hashtag #ImWithHer was first seen on Twitter, when Bill Clinton was watching his wife in the debate and decided to tweet his support: "What happens in Vegas… is I watch @HillaryClinton prove she's the most qualified candidate for POTUS. #ImwithHer."[62] This tweet, posted in October 2015, gained more than 9,000 retweets and created a new campaign slogan for the Hillary 2016 campaign: "I'm With Her."[63] Many Twitter users use the #StillWithHer hashtag to "express their messages of hope, sadness, and determination following the 2016 election."[64] This is not only symbolic of Clinton fans staying by her side, but also has a feminist undertone that further strengthens the Anti-Trump movement.  
Other relevant hashtags include #TrumpsAWhiteSupremacist, #DumpTrump, #NeverTrump, #FUCKTRUMP, #LoveTrumpsHate, and #ThisPussyGrabsBack
Meme vs. Cause
Though the Anti-Trump movement has been largely cause-based, it has also undoubtedly come with a strong meme culture. This section will discuss some of the specific memes that have impacted the Anti-Trump movement. Despite the fact that memes can be used to provide comedic relief, many of these memes delve into content that has political and social undertones. For example, there were many memes created following Trump's post-election meeting with Obama (one of these memes can be seen below). What this really represented at its core was the level of polarization between not only Trump and Obama, but also between their respective parties, bases, and followers.
Though it is important that the #Resist Movement not let their guard down and maintain constant pressure on the president and his administration, many people find Trump-related memes to be a form of comedy. Here are some popular memes:[65]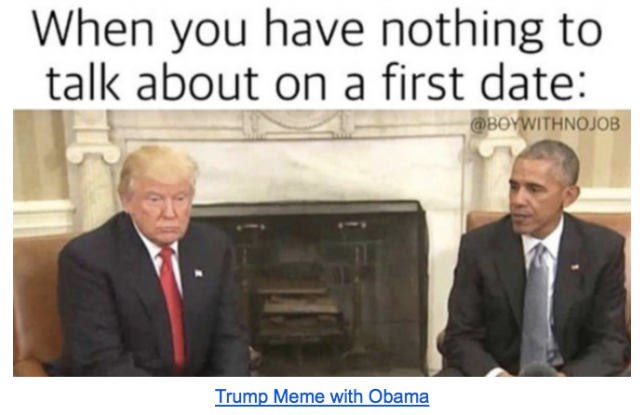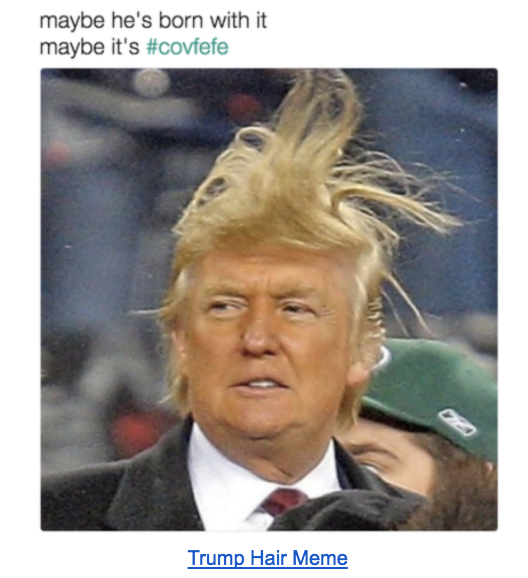 Organic vs. Planned Growth
The Anti-Trump movement has experienced both organic and planned growth. Trump's personal use of Twitter, which is reported to be impulsive and unplanned by many sources, is a form of organic growth.[66] However, it is possible that the haphazard nature of posting on Twitter is ultimately strategic.[67] Whether deliberately or not, Trump is known for acting hastily, which poses a challenge to his protesters in organizing planned responses.[68],[69] Since Trump's administration is relatively unorganized, any counter movement is inherently limited in its own organizational abilities.
However, there have been various organizations that engage in planned reactions to Trump's presidency, and they have had a noticeable presence on social media. The following section describes these organizations – Indivisible, SwingLeft, and InformedImmigrant – that were created as a result of the 2016 election. These organizations have organized planned growth initiatives using social media technologies.
Indivisible
Indivisible brings together thousands of smaller groups to fight the Trump administration.[70] This organization posts specific instructions for how people can go about protesting in their communities. As a specific example, they have one page which highlights how people can start organizing locally in order to help the Democrats win elections.[71] Indivisible claims that their website has been viewed over 3 million times and that they have a minimum of 2 subgroups in each congressional district across the country.[72] This goes to show how effective their organizational skills have been thus far. The Indivisible Facebook page has over 240,000 followers as of December 2017.[73]
Swing Left
While some organizations have a broad-ranging spectrum of goals, Swing Left's entire mission is to win elections in contested districts in the 2018 Midterms, specifically in the House of Representatives.[74] A map on their website allows users to see exactly which districts are considered to be "contested" and provides details about these districts and resources that can be used to help join the fight. This organization is a very good example of how these social media protests against Trump can be planned rather than organic. One microcosm of their effective planning is a step-by-step guide or timeline showing users how they should be acting during three key phases between now and next November: pre-primary, post-primary, and "government time" (the last few weeks before the election).[75]
Informed Immigrant
Finally, Informed Immigrant was created with the purpose of educating immigrants on the legal changes being made to their standing by the Trump team.[76] Their website has specific instructions and guides for undocumented immigrants, DACA recipients, etc. This organization shows how opposition to Trump can be both planned and organic. While the organization must be updating their guides constantly with new policy announcements, they also plan in advance. For example, they recently published a guide titled, "Practical Steps to Take If DACA Is Repealed."[77] Many of these guides have been posted in both English and Spanish on the Informed Immigrant Facebook page.[78] The image below was found when first going to their website, and gives an indication of the level of time-sensitivity associated with this issue.
Offline Presence
The Anti-Trump movement has also garnered a strong offline presence since 2015 when he first announced his candidacy; we will be focusing on the key protests since then.
The first recorded Anti-Trump physical protest occurred on June 17, 2015, shortly after his candidacy announcement. Kiernan Majerus Collins, the current chair of the Lewiston Democratic Party, attended a Trump rally with signs reading, "Mexicans are people, NOT CRIMINALS." Although met with a lot of initial opposition, these protesters sparked the physical Anti-Trump movement, which goes hand in hand with the social media movement.[29]
After Trump's win on election night, protests in at least 25 cities across the United States ensued. Protests spanned from the most populated cities, to outside the Supreme Court and White House, and even found its way into classrooms.[30] The day following Trump's win, students in the Bay Area (Oakland, Berkeley, San Jose, and Contra Costa Country) walked out of class while chanting "Love Trumps Hate" to protest Trump; in Berkeley High School alone 1,500 students participated![31]
The single largest protest linked to Anti-Trump sentiments was the Women's March, which occurred directly after his inauguration. According to the Washington Post, an estimated four million people gathered in cities all across the United States including, but not limited to: Los Angeles, Chicago, New York, and San Francisco, to protest the inauguration of Donald Trump and to advocate for women's rights, immigrants rights, and human rights.[32] The marches were initiated by Teresa Shook, a retired attorney living in Hawaii. Shook created a Facebook event titled, "Women's March On Washington" for the day following Trump's inauguration. The page went viral, and over 160,000 people clicked that they would be "going."[33] The Women's March is a testament to the power of social media in organizing physical protests. One woman's post resulted in millions of people marching in unison across the globe to spread a common message.[34] In the United States, the largest participation was found in Los Angeles (447,500 estimated), Washington D.C. (725,000 estimated), and Chicago (250,000 estimated).[35] 
The Women's March brought together both men and women in unity to combat hate. Kate Johnson, a protester from Bristol, described her reasons for marching, "I hope that people will work harder to develop empathy and tear down Trump's walls."[36] Daniel Schechter, a protester from Geneva stated, "I fear his dishonest, disrespect, ignorance, impulsivity, and self-aggrandising attitude."[37] The Women's March was monumental in assuring the masses that in the face of a divisive president, people can unite together to stand in solidarity with one another.
Two notable politically affiliated participants in the Women's March in Washington D.C were Former Secretary of State John Kerry and Senator Cory Booker.[38] In addition, the Women's March was visited by a myriad of celebrities, including Chrissy Teigen, Jake Gyllenhaal, Nick Offerman, Miley Cyrus, and Gina Rodriguez. [39]
Impact of the Movement
Policy Achievements
It is widely debated if the Resist Trump movement has been successful. To date, there have not been any major policy decisions (i.e. health care, foreign policy, etc.) that have changed due to any protests. However, as Jon Cassidy, a writer for the New York Post stated, "Indeed, what is striking is how many people Trump has mobilized who previously didn't pay very much attention to what happens in Washington."[79] According to work by Jeremy Pressman (University of Connecticut) and Erica Chenoweth (University of Denver) it is estimated that about 4.1 million people in the U.S. and around 300,000 people abroad participated in the Women's March on January 21, 2017 alone.[80] 
In addition, this movement has differentiated itself from various other movements because it has engaged youth in the United States more than any other previous political movement. Given the fact the #Resist movement was catalyzed by social media, it has become a youth movement. This movement gave people, both the politically engaged and unengaged, a platform to share and express their opinions. Social media platforms were essential in amplifying these messages.  
Critiques of Movement
The #Resist movement has not been embraced by everyone. One critique of the movement is with it's hashtag "#NotMyPresident." Opponents of the movement feel as though this hashtag is more divisive than it is helpful. They believe that saying "#NotMyPresident" undermines America's democratic values as a whole.[81] Twitter's advanced search for the dates surrounding Election Night results in a multitude of anti-resistance tweets urging that Donald Trump is in fact our president.[82] Opponents of the resistance movement use the hashtag "MAGA," which stands for Make America Great Again.
Prominent Tweet Combating Anti-Trump Rhetoric[83]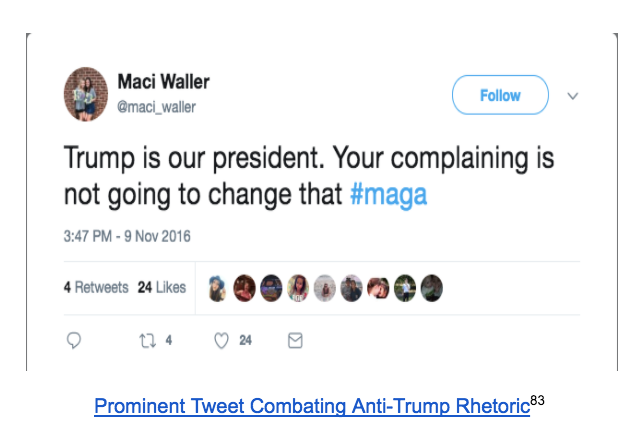 Another critique of the #Resist movement is that it is only relevant due to the media. Opposition to the movement note that large scale media outlets such as Time Magazine and The New York Times are twisting the narrative to shed a positive light on a "resistance" that lacks substance and direction. The opposition attributes the attention to the Resist Movement and the ignorance to the public of The Tea Party, who also opposed Donald Trump, to the media.[84]
Contrary to popular belief, there are also some Democrats who are not behind the Resist Movement. Democratic Senator Heidi Heitkamp said, "The Resistance movement is a waste of time." As someone who is concerned about passing legislation in a politically polarized climate, the idea of resisting the current administration at all costs does not bode well with her.[85]
Conclusion
The Anti-Trump movement is a conglomerate of many mini-movements including, but not limited  to the Women's March, A Day without Immigrants, and Resist Trump Tuesdays. Each of these decentralized movements have all been reactionary to President Trump's policies. More specifically, when Trump makes a policy announcement via Twitter or when the media discovers one of Trump's previous tweets that are crude or hypocritical, a movement is formed in reaction.
Many may argue that the Anti-Trump/ #Resist movement would have still existed without the presence of social media. But, the use of social media was the central catalyst which allowed for the movement to involve previously unengaged individuals in the movement i.e youth, underrepresented minorities, and LGBTQA individuals who are not always included in politics.
This is the first presidency in which nearly three generations of individuals have been given the opportunity to utilize social media to advocate for noteworthy causes. Social media is a strong tool and we hope that you will use it when you find a cause that you are passionate about.
Biographies
Daniella Wenger (2018) is a senior Business Administration major and Public Policy minor.
Adam Stein (Class of 2018) is a senior Business Administration major.
Raffi Terteryan (Class of 2019) is a junior Business Administration major and a transfer from Glendale Community College in Southern California. He is interested in pursuing a career in consulting post graduation.
---