PAGE NAVIGATION
Introduction
Although there was not one individual cause of the consumer boycott of Uber, a variety of public, company-wide controversies were inevitably the cause of the movement #DeleteUber.[1] The animosity of the general public towards Uber's hostile work environment filled with sexual harassment, sexism, negative political affiliations, and overall low company morale, were what continued to carry #DeleteUber across the internet. People quickly tagged onto the movement and the hashtag "#DeleteUber" hastily made itself popular on various social media accounts as people used the hashtag as well as a screenshot of them deleting their app in order to successfully promote boycotting the app. Due Along with the blanket hashtag for the boycott, other hashtags arose during these controversies such as #Ubersurvivor and #Ubervictim, which highlight the negative work environment for many people.[2] [3] Due to the fact that the controversial events that motivated this movement were brought to light using various social media websites, such as Twitter, social media accessibility and use were ultimately what made the #DeleteUber movement possible. Without social media, the information surrounding the controversy could not have occured because the usage of social media is what gave the movement its traction, visibility, and publicity. What makes social media unique in this case is that information is being updated by the second and without websites like Twitter, people would otherwise see news like this only in newspapers and magazines possibly days after the fact.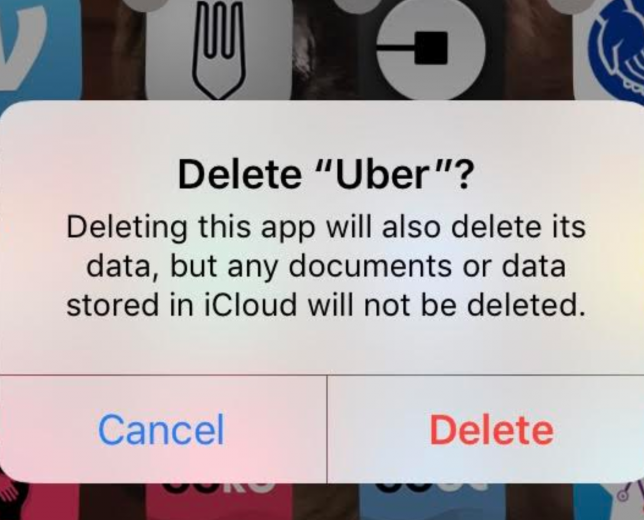 Context
While the movement #DeleteUber began in America during the series of ongoing controversies, the movement also made its way across both national and international levels. The movement sparked the most interest in the United States as well as four international countries: Singapore, South Africa, Ireland and Philippines.[4] In those top four international countries that were involved with the popularity of #DeleteUber, only Singapore and South Africa actually have Uber services available.[5]
The following image portrays the occurrence of the hashtag #DeleteUber across the globe, with the darker colors showing higher relevance.
The first Uber controversy arose in the events that followed President Donald Trump's travel ban on January 28, 2017[7][8]. When taxi companies chose to stand against the travel ban and briefly halted all taxi services for an hour at the John F. Kennedy airport in New York, Uber made a public announcement on Twitter that the price surge would be eliminated. This caused a stir of anger as people took Uber's stance as condoning the travel ban, which was criticized as being xenophobic and discriminatory.[9][10] Later, Uber corrected themselves by posting a Tweet stating that they did not mean to interfere with the taxi protests.[11] The Tweet read "Last tweet not meant to break strike. Our CEO's statement opposing travel ban and compensating those impacted: http://t.uber.com/eo."[12] This instance of #DeleteUber was seen as politically motivated by people who opposed President Donald Trump and the travel ban.[13][14] The next event that resulted in a #DeleteUber campaign was brought about by an ex-Uber employee, Susan J. Fowler, who made a public statement in February of 2017 about the sexist and emotionally perilous work environment within the company. This public announcement brought gender discrimination, sexism, and equality into the conversation and inspired many people to join the Uber boycott.[15] 
Timeline
Key Actors
People
Travis Kalanick
For starters, Travis Kalanick was the founder and  former CEO of Uber, and played as a main character in the events that led to the #DeleteUber movement. As seen in Kalanick's Miami Letter, his filmed argument with an Uber driver, his position on Trump's board, and his inability to properly oversee Uber employees and manage a welcoming work environment, Kalanick is a leading cause of many of these controversies.[40] Upon his resignation, Kalanick stated in a heartfelt speech, "I love Uber more than anything in the world and at this difficult moment in my personal life I have accepted the investor's request to step aside so that Uber can go back to building rather than be distracted with another fight," showing that Kalanick had respect for the company's future and the shareholders and investors who will keep Uber growing.[41] 
Sarah J. Fowler
As previously stated, Fowler created an open letter and posted it in hopes to get the word out that Uber had a harmful work environment- especially to women.[42] Her letter caused a stir of rage from people all over Twitter and people quickly began to make tweets announcing #DeleteUber.
Dan O'Sullivan
A man named Dan O'Sullivan was the first person to tweet #DeleteUber after the JFK Airport scandal, and the hashtag quickly gained popularity and began the movement. While O'Sullivan claims that he does not want to take accountability or credit for the movement because he believes it was only brought about because of "decent"[43] people, he does take credit for creating the hashtag.[44] His original posts gained over one thousand retweets and two thousand likes.  [45]
Demographics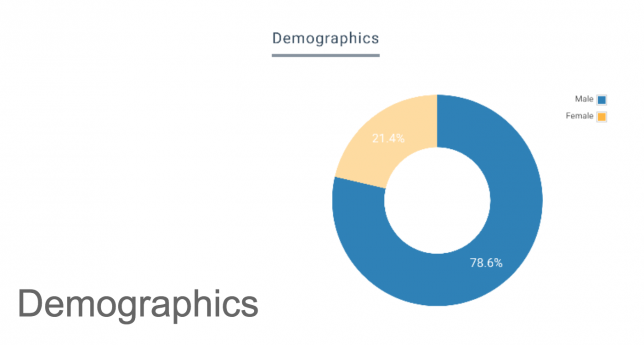 Demographic information has revealed that users of the #Deleteuber hashtag were 21.4% female and 78.6% males across all relevant social media platforms, including Twitter, Paper, Mash, and so on.[46]
Organizations
The CEO of Basecamp, a Chicago based tech company, chose to boycott Uber by no longer reimbursing company and employee Uber rides, giving incentive to use other ridesharing apps.[47] Jason Fried, the company's CEO, stated that making the decision to boycott Uber was easy, especially after the Susan J. Fowler controversy, and for Fried, it was a matter of morals.[48][49]
Celebrity Influence
Many celebrities took note of the #DeleteUber movement and joined in by showing support via the hashtag on different social media platforms. Actress Taraji P. Hensen made a statement in her Tweet on Twitter about Uber shortly after the JFK Airport incident occurred, tweeting "DELETING @UBER RIGHT THE FUCK NOW!!!" while sharing a #DeleteUber trend article.[50][51]
Reaching over thirty thousand likes, Star Trek actor George Takei made a Twitter post in late January in light of the uber CEO's position on Trump's board and compares the company to Lyft, which had donated money to ACLU, including the hashtag.[52] 
Celebrity Actor Jesse Williams also made a tweet in light of the Uber JFK Airport controversy. He is seen posting a screenshot of him deleting the Uber app with the hashtag #DeleteUber.[53] 
Social Media Presence
Platforms & Popular Hashtags
Since Uber is a mobile phone based application, news and controversy about Uber is always active on media and social media, especially for the travel ban boycott and widely circulated blog post of ex-employee Susan Fowler. Both events garnered a lot of circulation of the popular social media platforms, Twitter, Facebook, and Instagram.  For the travel ban boycott, many users began to use the #DeleteUber hashtag in their posts on social media; however, there were no other trending hashtags for the other controversial events that other users used regarding this boycott.
Specifically for the #DeleteUber boycott, even though most of the hashtags and pictures were trending on Twitter, there was still some social media presence on Facebook, especially when Uber ex-CEO Travis Kalanick posted on Facebook defending about the support Uber provides for their drivers.[54]
Memes vs Cause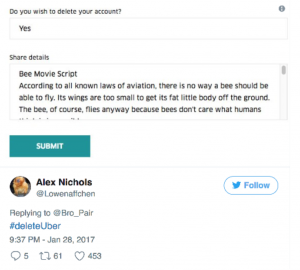 However, the #DeleteUber boycott also had some meme-related presence on Instagram [55]
The only other posts on Facebook using the #DeleteUber hashtag are for news reports. Even though the memes satirise the different posts and issues, they still highlight the main idea of boycotting the product. For Uber, most of the memes revolved around having creative reasons they provided on why they were deleting their account. One of the best examples (left) is when Alex Nichols copied and pasted the entire Bee Movie script as his reason of deleting his Uber account.
After Susan Fowler published her blog post about her experiences at Uber, there was a second, less popular, blog post written under the pseudonym Amy.[56] In response to both blog posts, there was mostly a lot of activity on Facebook, as it was circulated and shared among friends. Two hashtags, #Ubervictims and #uberSurvivor, became more popular, but not many used it the same way as Amy and Susan. A lot of Twitter users would use these hashtags as a rider referring to their driver, such as Lindberg (right). The memes or other posts on Twitter using #ubersurvivor and #uberVictims did not address the issue as well as the ones for the #DeleteUber issue. However, despite the lack of trending hashtags, the blog posts of both went viral with Fowler's post shared at least 22,000 times on Twitter and Amy's post clapped for 5,000 times on Medium. [57]
The leaked email memo of Travis Kalanick and the removal of board member David Bonderman did not have a lot of social media presence. Both of these events were blasted all over the technology news. In addition, there were no significant hashtags or trending content about these events specifically on social media. 
Notable Posts
During the Uber boycott, there were many notable posts that helped spread the boycott on social media. Recording artist and singer Janelle Monae posted a video her voicing her support for the boycott (left). [58]
In addition to Janelle Monae, actress Taraji P. Henson voiced her strong opinions  on Twitter, which was liked and retweet by thousands of Twitter users (bottom). [59]
Taraji and Janelle are not the only ones in the celebrity sphere to voice their opinions on social media. Actress Susan Sarandon posted the iconic trending Delete Uber app confirmation screenshot as well as a promotion for Lyft, the Uber's main competitor (right)[60]. In addition, Noel Wells from SNL has posted on Instagram his opinions in a humorous way (bottom). [61] 
Additionally, many figures in academia and tech, such as Andrew Ng co-founder of Coursera and associate professor (bottom)  at Stanford University and Guy Kawaski (left), Silicon Valley venture capitalist, shared Susan Fowler's blog post. 
Analysis of Role of Social Media & Growth Pattern
Social media has played a huge part for both boycotts, affecting the different companies immensely. According to Keyhole, just during the month of January to March 2017, the #DeleteUber hashtag has appeared in around 37,000 posts on Twitter, leaving an estimate of 296,000,000 impressions[62]. This virality of the posts and hashtags were a moving factor for the boycott. 
In addition, due to Uber being an application itself, most Ubers users were exposed to the posts and tweets. Uber's targeted market of people with mobile devices makes it difficult to decouple the usage of social media. Therefore, social media played an effective role of spreading the ideas and boycott to the actual users of Uber's product. This setup made it unnatural to have any presence off the Internet or mobile phone since Uber's whole market was set up to be online. If the movement took place instead on news and television, the impact would not be as great because the main targeted audience of Uber's product would not be as active watching the news than on social media. Therefore, there were no real offline and in-person presence of the Uber boycott. 
Most of the social media presence is based on an organic growth from the users and the employees of Uber. Because Uber is a mobile application, most users who use the application will be active on other social media applications to learn and spread the ideas.
Analog Antecedents
Other than a classic boycott of a corporation, the Uber boycott is somewhat different because of the role of social media and the action of boycotting is all online. However, there are many modern boycotts that bear resemblance to the Uber boycott.
#GrabYourWallet Boycott
An anti-Trump boycott started in October 2016 by Susan Coulter in attempts to protest against Trump. This political movement #GrabYourWallet boycotts all stores that sell or are affiliated to Trump products. [63] Similar to the Uber boycott, they do not just boycott actual material products, but they also boycott different TV shows, such as The New Celebrity Apprentice, which used to be hosted by Donald Trump. Both boycotts utilize the power of social media to spread their movement. However, the #GrabYourWallet boycott still focuses on material products and the traditional method of abstaining from purchasing from stores that hold Trump products.
Starbucks Boycott
After Starbucks changed their holiday cups to a solid red color in 2015, many people boycotted Starbucks because of their "anti-Christmas" sentiment. [64] Similar to the posts that were trending on Twitter for Uber, many Twitter users posted renditions of the Starbucks logo, comparing it to Satan to speak out against the "anti-Christmas" sentiment. In addition, users compared other companies, such as Dunkin Donuts, and their festive, Christmas cups with Starbucks to voice their support for these other companies.
Impact of Movement
After the #DeleteUber boycott, Uber lost an estimated 200,000 users and Uber's "negative perceptions" have tripled to 27%. In addition, to changes in Uber, there was a shift in the ride-share industry. With the constantly questioned reputation of Uber, Lyft has risen in the ranks to the top 10 downloaded applications in the Apple App store. For example, Lyft U.S. application downloads grew by 78% week by week on iOS phones and saw an overall 3% increase in new users.[65][66] Uber CEO Travis Kalanick stepped down from President Trump's business advisory council two days later.[67] 
After the publication of Fowler's blog post, former U.S. Attorney General Eric Holder was hired by Uber to investigate reports of sexual harassment. Uber later fired 20 employees, which included senior executives.  With all the controversial events that happened to Uber in 2017, on June 13 2017, Uber ex-CEO Travis Kalanick took an indefinite leave of absence from the company.[68]
The lack of trust Uber users have in the company could also have a detrimental impact on the company's growth and profits in the future. Uber plans to launch driverless, automated vehicles, an endeavor they have been prototyping in Pittsburgh and Arizona, which may do poorly in the market compared to competing products as people are more likely to risk their safety using other company's products than Uber's due to the Uber's poor image.[69] While the same study from the Washington post placed the number of actual Uber users who switched to Lyft after the JFK incident at 4%, a relatively low number considering the similar steps of obtaining and similar features used between different ridesharing apps, the introduction of new technology relies heavily on company success and image in order to convince customers that their products are truly the "next big thing."  
(Image: An Uber driverless vehicle prototype. Source: Chicago Tribune)[70]
 On an international level, Uber has been facing difficulty with expanding their business to different countries as they have been facing scrutiny and legal bans in different places for various reasons. Many bans, such as the ban of Uber in San Paulo and Italy, are based on legal technicalities where Uber is considered a taxi service and fails to adhere to taxi regulations.[71] Others, however, such as the ban of Uber in London, are based on similar sentiments to those of the Transport of London, which claims that Uber is not a "fit and proper" car hire service.[72] Uber's current chief executive Dara Khosrowshahi wrote to his staff that, "The truth is that there is a high cost to a bad reputation… it really matters what people think of us." While Khosrowshahi does not directly mention the #deleteUber movement, a large reason why most people in major cities may be voting to put such bans against Uber in place may be the negative publicity Uber faced following the rise of the #deleteUber hashtag and the scandals that were revealed shortly after. The growing distrust of Uber is seen in its perception as an "immoral" company.
The #DeleteUber movement also indicates a shift where tech companies may have to decide between appeasing the current conservative White House administration and their own employee and customer populations, which may be predominantly liberal and hold opposing views. The social media eruption like the #DeleteUber hashtag shows the influence of the general public in politically polarized areas, such as the famously liberal San Francisco where Uber drivers noticed a sharp dip in demand for their services shortly after the JFK airport incident.[73]
Critiques of Movement
Many consider the #DeleteUber movement to have been successful as the blacklash from the #DeleteUber movement is credited as a major reason for Uber CEO Travis Kalanick's step down from Trump's business council and his indefinite leave of absence from Uber.[74] The movement broke public trust in Uber's brand and the company itself, especially as the growing public scrutiny of Uber led to the reveal of many scandals in a short amount of time.[75] The internal audit resulting in the firing of over 20 employees especially due to sexual harassment may have been possible because Uber employee Susan Fowler came out with her story at a time when public faith in the company was low.[76] 
However, despite all these numbers, a study according to the Washington Post shows that only 4% of rideshare users actually switched from Uber to a different rideshare service. This could be accounted for due to people prioritizing the need for convenience over making political statements.[77] Stephen Beck, a partner of a consulting firm cg42, says that despite the actual effect of users switching, 81% percent of users are "aware of the news…[which] means [their] trust is eroding". Thus, this boycott was successful in bringing awareness and bringing the Uber's problems to light.
Generally, consumer boycotts have an overall inconsequential impact on a target company's stock and Uber's monetary profits were not hurt significantly during the #DeleteUber movement, as a statistic earlier in the chapter shows that Uber lost only a small fraction of its regular users (0.5%), but the redirection of focus towards Uber's competitor Lyft shows the surge of an inherently capitalist model where consumers use their dollars as a vote of support for businesses that requires consumers to have knowledge of a company's policies and stances in order to make decisions.[78][79][80] This model creates added social responsibility for consumers and, especially through the use of social media and hashtags, allows people to signpost their beliefs, political or otherwise, publicly.[81]
By using a hashtag like #DeleteUber and posting the iconic screenshot concurrently, consumers are able to engage in a type of social activism that does not require money or widespread coordination or gathering in public spaces to show disapproval — as if taking action with free publicity and no personal cost to day to day life.[82] The #DeleteUber movement also serves as a great example of how social media takes information pertaining to a social issue and amplifies it in increasingly short amounts of time.[83] Thus, people are mobilized faster and act quicker, whether online or in person.
Conclusion
We feel that the #DeleteUber movement would not have occurred without the existence of social media. In a literal sense, the inciting incident of the movement was when Uber released a statement on Twitter, a key inflection point when Fowler posted on an online blogging platform about her sexual harassment experiences with the company, and yet another was when video sharing platform was utilized to expose Kalanick's behavior toward his own employee. While Uber could have published their statement in a newspaper article or Fowler could have given an interview on a television news station, these incidents would not have gained as much publicity nor the movement as much traction without the capacity for virality that the use of online platforms allowed. The rapid fire online bombardment of so many people's disapproval, centralized and accessible globally through the hashtag, was critical in capturing the media spotlight and amplifying the voices of discontent to wide audiences. Without public attention online focused toward Uber through the hashtag #DeleteUber, the rapid revelations and people's intense investment into the company's conduct would not have developed at the pace they did.
Author Bios
Samantha Fleming
As a senior at UC Berkeley, I will be graduating in May 2018 with a degree in Sociology. Studying sociology has allowed me to expand the way I think about the world and I hope that it will lead me to create great change in the future.
Devina Sen
Devina Sen is a sophomore at UC Berkeley, intending to major in Cognitive Science. She plans to graduate in spring of 2020 and hopes that the MoveMe guide will indeed move you to utilize the power of social media to make positive impacts in the world around you.
Joanna Yang
I am a senior at UC Berkeley graduating in May 2018 with a degree in Electrical Engineering and Computer Science. Taking the Social Media and Social Movements class has helped bridge my technical experience with the effect of technology on social movements.
---